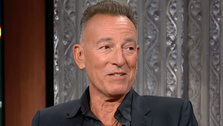 Host Stephen Colbert asked the rock icon to elaborate on the introduction in his new book, "Renegades: Born in the USA," in which he wrote: "These are treacherous times with much at stake, with everything at stake."
To which Springsteen said: "Do you want Marjorie Taylor Greene, Matt Gaetz, Ron DeSantis and our ex-fearless leader deciding the fate of the American experiment?"
Boos broke out in the audience, prompting Colbert to remark that maintaining hope was still a moral imperative despite the danger.
"You have to be a fighting optimist," Springsteen responded. "There was an attempt to overturn a free and fair election. It failed."
Springsteen, who collaborated on the book with former President Barack Obama, told the host he had no choice but to stay positive.